"Consider how the wild flowers grow. They do not labor or spin. Yet I tell you, not even Solomon in all his splendor was dressed like one of these. If that is how God clothes the grass of the field, which is here today, and tomorrow is thrown into the fire, how much more will he clothe you—you of little faith!..." Luke 12:27
March 28, we took a leap of faith to start fundraising to help a friend in Haiti purchase a sewing machine to begin sewing face masks. Our heart is to keep serving and honoring the Lord with what we have for His purpose. Not knowing the depth of that leap, on Monday we read this:
"On Sunday, March 29, local medical experts interviewed on Radio Kiskeya, one of the country's most important radio stations, suggested that up to 800,000 Haitians could perish from the virus. We spoke with Dr. Ernst Noël, of the Faculty of Medicine and Pharmacy (FMP) in Port-au-Prince, who stated that the number of 800,000 is not exaggerated. In his view it is highly probable that more people will die due to Coronavirus than perished in the 2010 earthquake.He added that large-scale foreign investment and monumental local efforts would need to be undertaken to avert such a catastrophe."(Excerpt from "Haiti on the precipice of the Coronavirus" on the Haiti Analysis website)
Still moving forward in faith, knowing profit sales have plummetted for us, we decided to hold hope and share whatever we can to make this happen for our friend and those in his area. We know God knows our need for sales here to make this happen. When we shared this with our friend in Haiti, he responded with "God knows every need."
On April 2, because of our supporters and their response we were able to provide the necessary funds for him to purchase a sewing machine to start sewing masks to help protect those in his community!! We hit send, and prayed for protection for him and this blessing he had received. Guys, this situation could have went very bad very quick. 
For those unfamiliar with Haiti...there are riots, violence, fear, and panic. Having something of worth is a sure target for anyone in a third world country. There also isn't power for over 75% of the country. The other 25% use generators through the day and the 30 minutes of power at sunset at the best of their ability to work and survive.  Despite the evil and chaos lurking, the Lord protected him and this mission. 
To keep working strong at all times, he bought a manual antique Singer Finger sewing machine with a foot treadle. It's beautiful!! Unfortunately, due to high inflation charges, he was able to purchase the machine, but didn't have enough money to purchase the supplies to begin making the face masks.  We are trusting in the Lord to continue to work through On A Mission Apparel to supply the remaining needs as He has already provided the sewing machine. 
Profits from "Consider the Wildflowers" and any donations toward this need will continue to go toward his supplies for face masks, to keep on working the machine and making a living.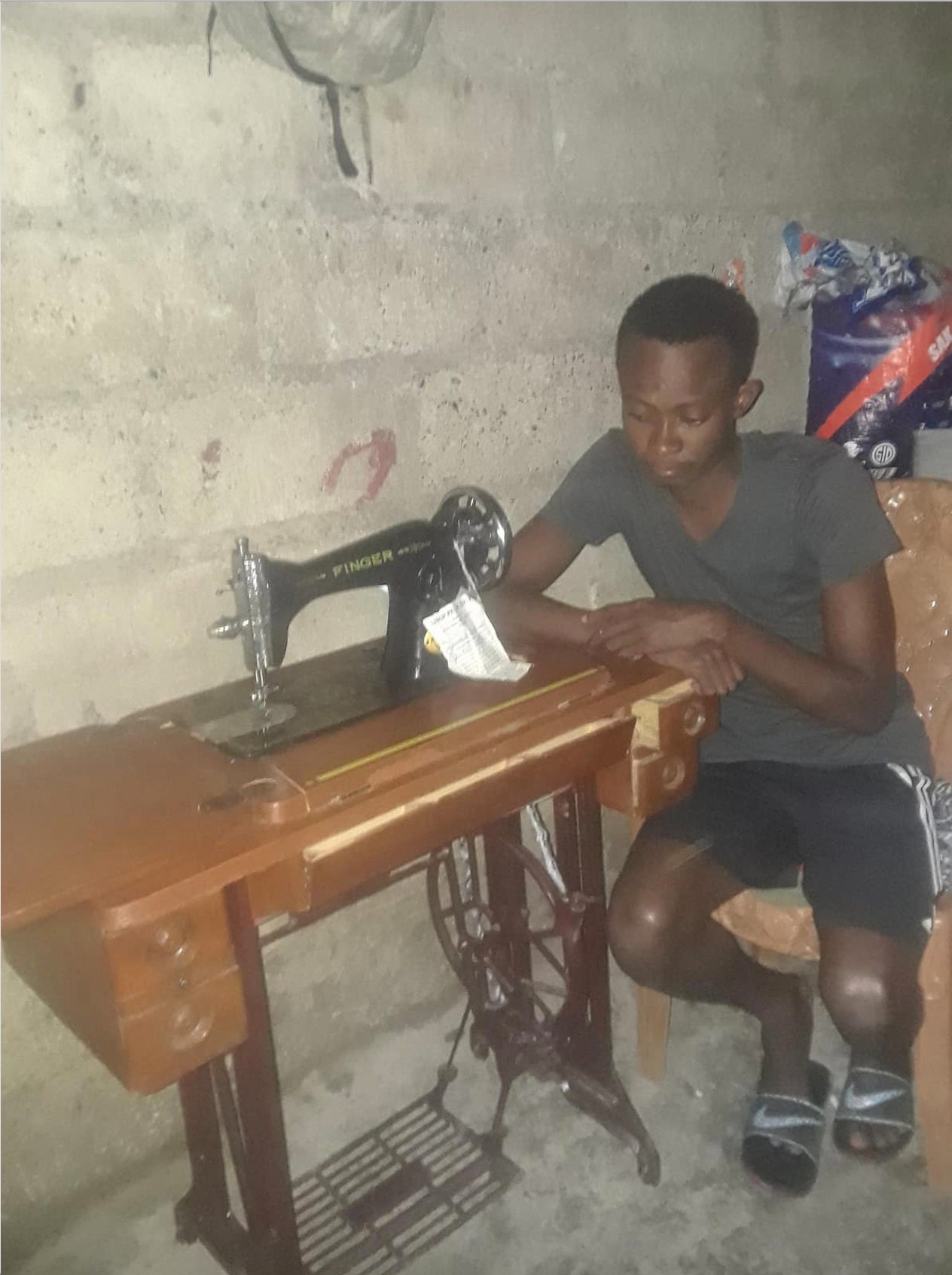 I share all of this to say thank you for your support for our apparel and mission. Especially right now.  In faith, I hope this testimony encourages others around the world to move forward and trust the Lord with what you are given RIGHT NOW and always, be good stewards of blessings, love your neighbors, and be His hands and feet. He knows your greatest needs and the needs of those you unknowingly impact.
In the Book of Luke, Jesus's sermon on worry finishes with:
"...And do not set your heart on what you will eat or drink; do not worry about it. For the pagan world runs after all such things, and your Father knows that you need them. But seek his kingdom, and these things will be given to you as well. Do not be afraid, little flock, for your Father has been pleased to give you the kingdom. Sell your possessions and give to the poor. Provide purses for yourselves that will not wear out, a treasure in heaven that will never fail, where no thief comes near and no moth destroys. 
For where your treasure is, there your heart will be also." 
Luke 12:27-32
Brooke at On A Mission Apparel
RESOURCES:
Consider the Wildflowers T-Shirts: https://onamissionapparel.com/listing/789709673/consider-the-wildflowers-adult-unisex
Haiti Analysis: http://haitianalysis.com/2020/03/31/haiti-on-the-precipice-of-coronavirus/?fbclid=IwAR1zuq-2AsN8refh4abCSOa4SKQZjnKnT1yAshbLPCUQwB35sf04Bl4tmMo